Copywriting packages that help you make your difference
Can your readers immediately see what your offering could mean for them?
OK, you're a difference-maker, and your awesometastic offering is going to change your clients' lives. But it won't do them any good whatsoever if they don't know about it.
Crystal clear copy tells your perfect clients what you offer in language they intuitively understand. But more than that, it shows them what your offering could mean to them.
When they truly get that – on a visceral level – they know in a heartbeat that they want to work with you. Or buy from you. Or at least get to know you better. So you get to make more sales, more clients, and more of your unique difference.
And if your offering isn't right for someone? Crystal clear copy will help them realise that right up front. Just think of the time, money and frustration that could save for everyone!
Here's a quick overview of the consults, packages and support services I offer.  Please click on each link for more details of what each option includes and the associated rates.
Free, No-Obligation Discovery Session

Every copywriting project I do starts with a free, no-obligation Discovery Session.  This is where I make sure I clearly understand you, your business, your clients and the scope of the project you're looking at.  It's also a chance for us to connect and check that we'll be a good fit to work together.
Crystal Clear Consult Packages
Get personalised, professional copywriting guidance that not only results in effective, authentic copy you love – it also helps you save money by learning how to do it yourself for the future! Options include:
Crystal Clear Copywriting Packages

These are "Done-For-You" packages; and due to their time-intensive nature, I'm offering them on a far more limited basis (no more than one per month) than I have been in the past.
Crystal Clear Support Add-ons
Social media mini-campaigns: use social media to spread the word about your offering as easily as possible to not just your tribe members… but all of their tribes as well
Editing: structural and surface-level editing for books, ebooks, brochures and opt-in gifts
Proofreading:  make sure your final copy is free from those annoying typos, major grammar issues, and ambiguities that can make you look less professional
Finally, if you want copywriting help with something that doesn't fit neatly into one of these packages, I'd love to discuss it with you in a complimentary, no-obligation strategy session. Just contact me to arrange a time that works for both of us.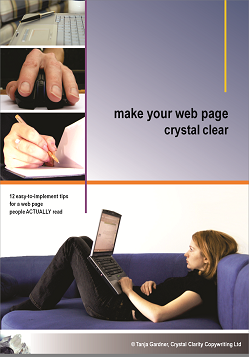 Is your website driving your readers away?
Free guide to writing web pages that people actually read.